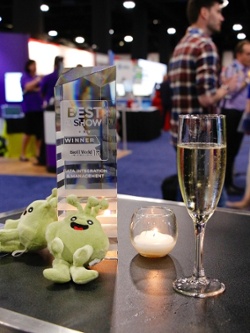 RADAR-base wins Data Integration & Management award at Bio-IT World 18
RADAR-base has won the 'Best of show' award at the Bio-IT World Conference 2018 in Boston, USA. The awards program recognizes the best of the innovative product solutions for the life sciences industry on display at the Bio-IT World conference in Boston.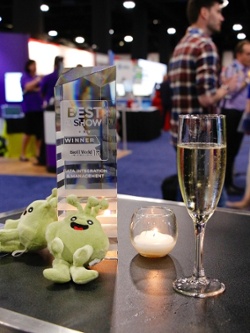 The Best of Show program relies on a panel of expert judges from academia and industry who screen eligible new products and hear presentations from a list of finalists on site. This year judges considered 46 new products and viewed presentations on site from 18 finalists. The judges named winners in six categories this year: Data Integration & Management; Analysis & Data Computing; Genomic Data Services; Data Visualization & Exploration; Storage Infrastructure & Hardware; and the Judges' Prize. Attendees also voted on the People's Choice Award, selecting products that they believe measurably improve workflow or capacity, enabling better research.
The 2018 judging panel included Joe Cerro, BostonCIO; Chris Dwan, Bridgeplate; Richard Holland, New Forest Ventures; Eleanor Howe, Diamond Age Data Science; Phillips Kuhl, Cambridge Healthtech Institute; Steve Marshall, Marshall Data Solutions; Michael Miller, Genentech; Art Morales, Analgesic Solutions; Nanguneri Nirmala, Tufts University School of Medicine; Alexander Sherman, Massachusetts General Hospital; Subi Subramanian, Vertex Pharmaceuticals; Bill Van Etten, BioTeam; and Proffitt.
"It's always a treat to explore what's new in our industry," said Bio-IT World Editor, Allison Proffitt. "The innovation on display by Bio-IT World exhibitors never disappoints, and we are excited to shine a spotlight on the best life sciences has to offer."
To read about all the winners, visit: http://www.bio-itworld.com/2018/05/16/2018-best-of-show-winners.aspx