RADAR-base Platform
The open source platform for remote assessment using wearable devices and mobile applications
Mission
Our mission is to improve people's quality of life by leveraging clinical value from wearable sensor data and smartphones.
Researchers studying diseases using modern machine learning and AI need increasingly large datasets to train these models. The modern smartphone has for the first time provided researchers with the technology for remote, continuous, real-time data collection at a scale previously not possible. We developed the RADAR-base project to provide researchers with the tools for scalable digital data collection and the opportunity for the public to participate as citizen scientists in health research.
RADAR-base
RADAR-base allows study participants to share their health data with clinicians and researchers in a secure way. RADAR-base is an open-source platform used for horizontally-scalable remote data collection. The main function of RADAR-base is to provide modular tools for the integration of data streams from various sources (i.e. wearables, phones, apps, IoT etc) and to collect in real time, process, store, manage and share the data with researchers.
The mobile phone is used as the main hub for routing and data collection in RADAR-base. The platform provides both passive and active data collection modes via two mobile applications. Firstly, the Passive App is used for background data collection directly from phone sensors or from wearable devices over Bluetooth. It includes real-time data such as monitoring of movement (accelerometer, gyroscope), location, audio, calls and texts, and app usage. The passive data, once collected is sent to a deployable backend infrastructure where it can be processed in near real-time and stored. Secondly, the Active App is used to collect data where a conscious effort is required by the participant to generate the data. This includes the use of questionnaires, for example, to record context labels, medication intake, or the severity of symptoms. No code is required to customise the Active App, and new questionnaires can easily be defined using simple configuration files. RADAR-base also includes components for collecting data from 3rd Party REST-APIs (e.g. Fitbit and Garmin) and IoT Sensors, these can readily be extended to allow new data sources to be integrated.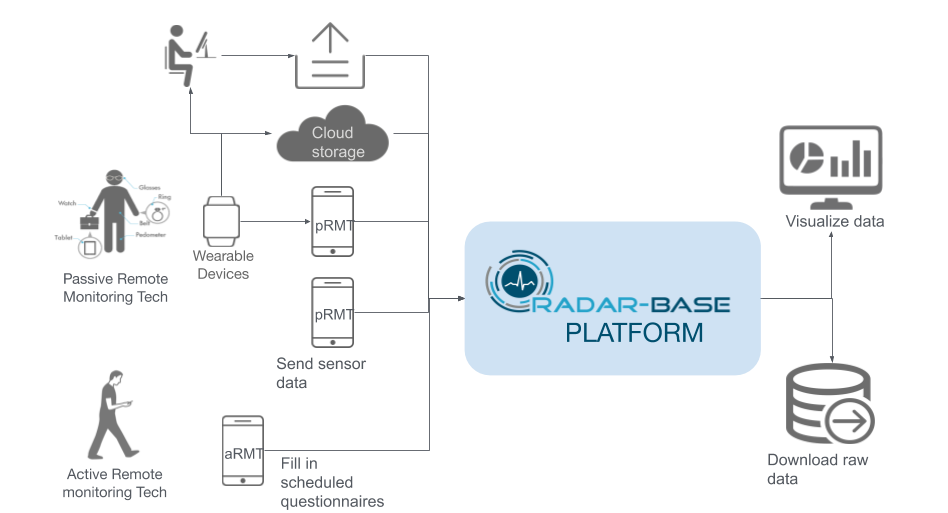 RADAR-base allows you to own the entire data collection infrastructure if your needs require it (e.g. in-hospital or enhanced participant privacy). To conduct remote monitoring studies, you will need access to a deployment of the RADAR-base platform backend, either in-house or in the cloud and a selection of integrated devices or data sources you would like to use for your study. Once these are available, you can start enrolling participants on the Management Portal user interface.
A key aim of RADAR-base is to stimulate the mobile health (mHealth) field by providing the necessary tools which can be freely reused. The complete RADAR-base technology stack is available under an Apache 2 open-source license. As an active community of developers, researchers and clinicians, we focus on improving and extending the platform with new features and data sources.
Watch this 12 min video which demonstrates the capabilities of RADAR-base. If you are interested in finding out more about RADAR-base, please visit our Get Started page.
Please cite this paper as a reference when using the RADAR-base platform:
Ranjan Y, Rashid Z, Stewart C, Conde P, Begale M, Verbeeck D, Boettcher S, Dobson R, Folarin A, The Hyve, RADAR-CNS Consortium.
RADAR-base: An Open Source mHealth Platform for Collecting, Monitoring and Analyzing Data Using Sensors, Wearables, and Mobile Devices.
URL: https://mhealth.jmir.org/2019/8/e11734/
DOI: 10.2196/11734
PMID: 31373275