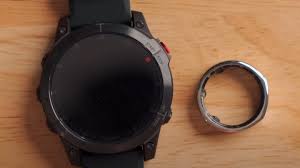 Comparing Oura and Garmin heart rate (HR) data for n=1
Wearable technology has revolutionized the way we track our fitness and health data. With the increasing popularity of smartwatches and fitness trackers, it is now easier than ever to monitor our physical activity, sleep, and overall well-being. Two popular wearable devices, the Oura Ring and Garmin watch, have gained a significant following due to their advanced features and capabilities. However, with so many options on the market, it can be challenging to determine which device is best suited for a research investigation. In this blog post, we will explore a comparison of the Oura Ring and Garmin watch heart rate (HR) data for n=1, to help provide insights into the agreement and discrepancies in the data between them. We were particularly interested in this comparison because of the sharp contrast in the form factor and the location of the wearables on the body.
Good to know
We will be using data from an Oura ring V2 and Garmin Vivoactive 4 smartwatch worn simultaneously by our colleague for 6 months. We collected the Garmin data using the RADAR-Base platform, while Oura data was extracted from the Oura personal dashboard. Few things to note –
Garmin watch can use daytime resting periods to calculate the Resting Heart Rate (RHR) but Oura ring v2 only uses the sleep periods.
The frequency at which Garmin and Oura record HR is very different (15 sec and 5 min respectively), causing Oura to miss low/high HR values sometimes.
Differences due to being worn on the finger and the wrist.
Garmin provides one value for RHR daily, Oura provides average heart rate with sleep data again daily, which I assume is comparable to the Garmin RHR since Oura only records resting heart rate, so the average heart rate provided by Oura is an average of all the resting heart rate values.
Oura doesn't accompany each HR point with a timestamp. Just provides an array of values of HR and you have to calculate the timestamp in increments of 5 mins for each HR value from the sleep start time.
Discrepancies between Oura and Garmin
Figure 1 shows the scatter and Bland-Altman plots for comparing the RHR data for the two devices. Since sampling rate of Oura is so different from the Garmin, we aggregate the Garmin data into 5 minute windows and compare with the Oura HR data point closest in time. The aggregations used were lowest and mean.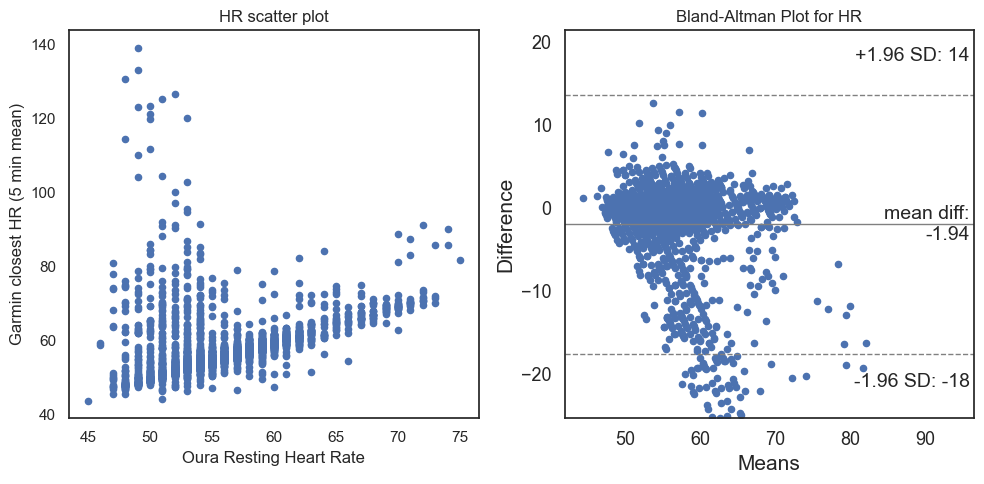 We observed that there is significant disagreement between the two, especially when Garmin has higher HR values. To investigate this disagreement further, we wanted to check what time during the day the Oura is recording sleep (and hence the RHR as it only provides the RHR during sleep periods) since it is unlikely that Garmin would be recording such high HR values when the subject is sleeping.
Investigation
Next, we compared the HR values between Oura and Garmin based on Time of the day is shown in Figures 2 and 3. We noticed the largest disagreement is in the time between hours 16:00-20:00 (4PM-8PM) of the day.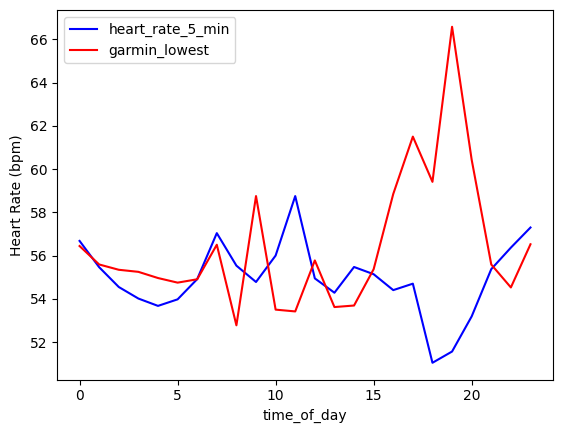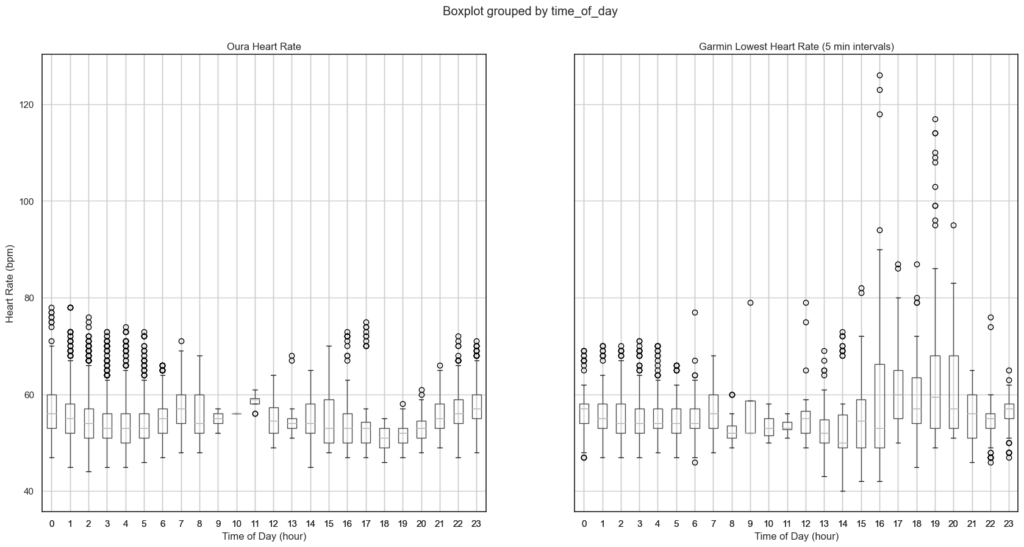 On confirming verbally with the subject, they said that they don't usually sleep during that time and possible exercise during that time, which could explain the high HR values in Garmin. But we were not sure why the Oura was showing sleep and low RHR values during those periods.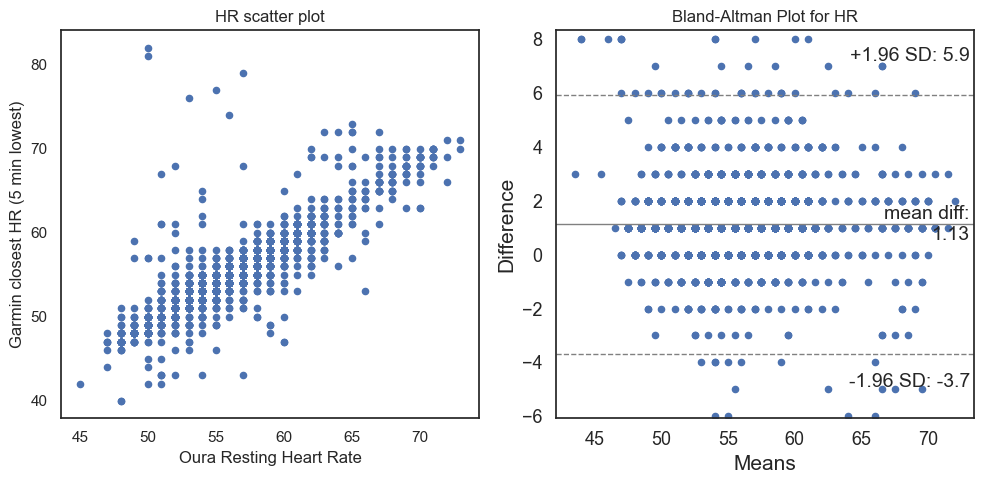 Figure 4 shows much better alignment between the heart rates collected from the 2 devices after the 4PM-8PM daily periods of data are removed.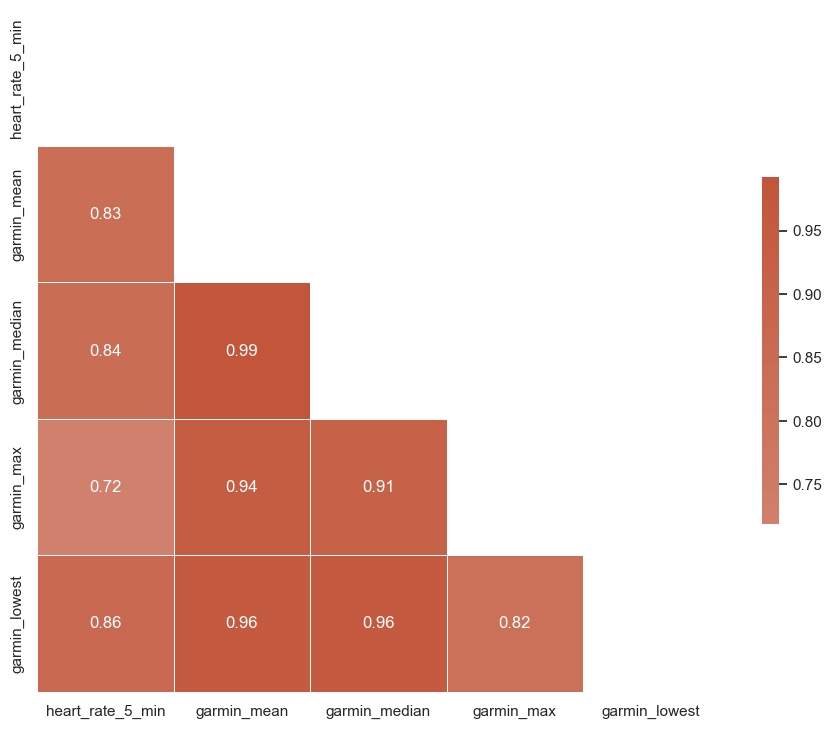 The correlation between Oura and Garmin HR after removing daily periods between 4PM-8PM is very good. The best feature for Garmin HR was using the lowest Garmin HR value from the 5-minute period, which had a correlation of 0.86 with Oura HR ("heart_rate_5_min"). This high value is excellent given that the devices vary quite a bit based on size, wear location and sensors.
Conclusion
In conclusion, wearable technology has transformed the way we track our fitness and health data. The Oura Ring and Garmin watch are two popular wearable devices that have gained significant followings due to their advanced features and capabilities. In this blog post, we explored a comparison of the Oura Ring and Garmin watch heart rate data for n=1 to provide insights into the agreement and discrepancies in the data between them. We found that the two devices had discrepancies in their heart rate data, particularly during the 4PM-8PM daily periods. Unfortunately, we could not compare the consistency of sleep times detected from both devices since Garmin only records a single sleep period in a day, usually at night, and does not detect naps. However, after removing these periods, the correlation between the two devices was high, indicating that both devices can be useful tools for tracking heart rate data.
Future studies are needed to investigate these discrepancies further, particularly in larger cohorts where excluding time periods with disagreements may not be feasible. Additionally, it will be interesting to explore how newer devices from both vendors, such as the Oura Ring V3 and Garmin Venu 2, may provide more accurate and consistent data due to their advanced sensors and technologies.