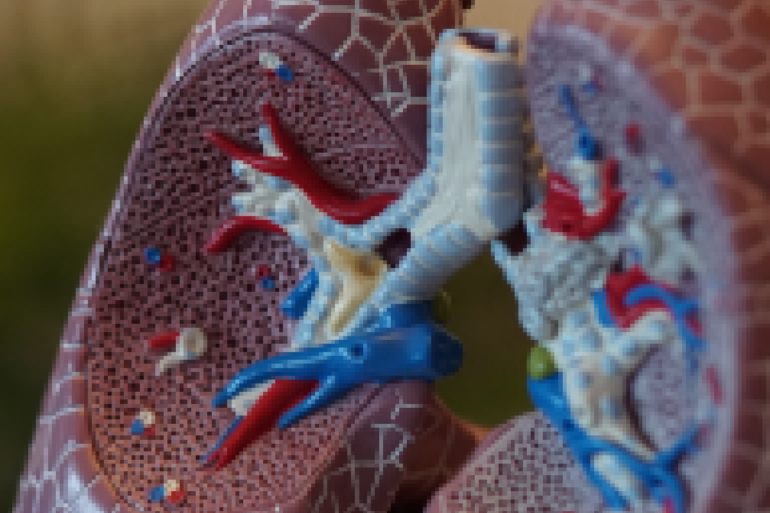 RALPMH: Remote assessment of lung disease
Background and study aims
Chronic obstructive pulmonary disease (COPD) is the name for a group of lung conditions that cause breathing difficulties. The term ILD encompasses a wide range of conditions affecting the lung tissue (as opposed to asthma and COPD which affect the airways)
The study aims to investigate the potential benefit and feasibility of remote monitoring of patients' symptoms and physiology via wearables and phone sensors in patients with a range of high-burden pulmonary disorders.
Remote monitoring will use our open-source RADAR-base (https://radar-base.org) mHealth platform to collect and analyse multiple datasets associated with respiratory disorders. This will include continuous data collected from wearable devices (e.g. heart rate, spO2), including pulse oximeters, spirometer, mobile phones (audio, location), digital tests and smartphone symptoms questionnaires in 3 different disorder areas (COPD, ILD and Post Hospitalisation Covid).
During these unprecedented times, an urgent measure must be taken to ensure vulnerable patients with diseases, like COPD and ILD, continue to receive the quality of care they need. Currently, COVID-19 is a challenge for anyone, but especially for such vulnerable patients with pre-existing conditions and diseases when their routine care cannot be done properly. Remote monitoring of physiology and symptoms of patients via wearable devices is more timely and essential than ever. It could be used to support these patients and detect any potential disease exacerbation or progression.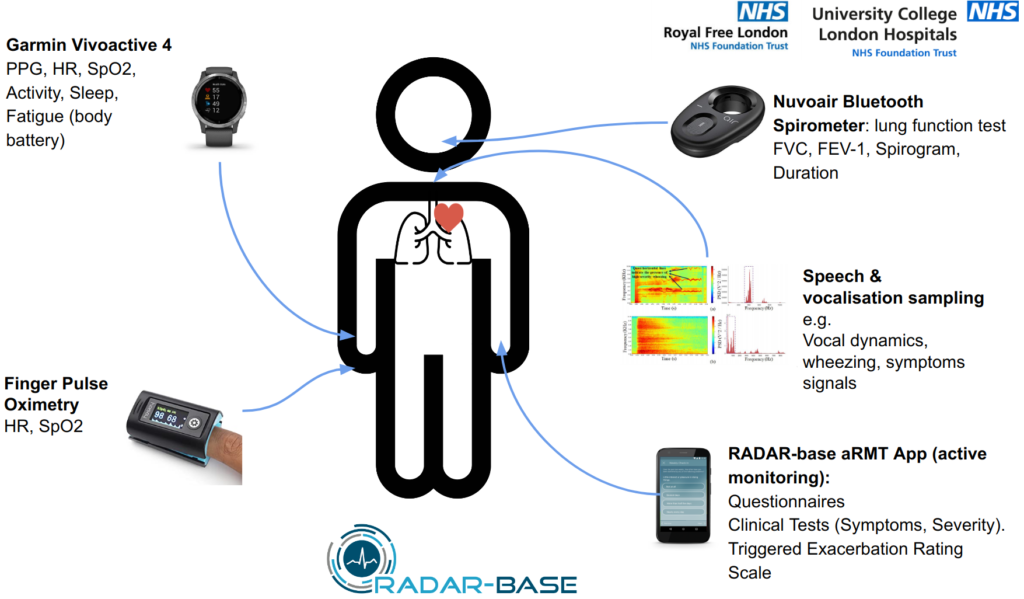 Who can participate?
Patients with Chronic Obstructive Pulmonary Disorder (COPD), Interstitial Lung Disease (ILD) and Post Hospitalised COVID-19 patients.
What does the study involve?
We use various devices to remotely collect data on your physiology like Heart Rate and Oxygen Saturation. You would also provide daily samples of Spirometry and Pulse Oximetry. A number of questionnaires are also delivered so we can collect information such as symptom reporting from you.
Wearing a Garmin Vivoactive 4 wristband, Using the https://radar-base.org platform Questionnaire App (aRMT), a smart Spirometer (NuvoAir AirNext), and a Finger Pulse Oximeter.
What are the possible benefits and risks of participating?
This is a research study and does not have any clinical intervention or any benefit to your treatment. You may keep the pulse oximeter at the end of the study. All devices used conform to CE marked safety standards and should present no risk to you.
Where is the study run from?
The study is run out of the Royal Free Hospital and University College London. This is in collaboration with King's College London and The South London and Maudsley NHS Trust (UK).
When is the study starting and how long is it expected to run for?
October 2020 to December 2022
Who is funding the study?
National Institute for Health Research (NIHR) (UK).
Who is the main contact?
Dr Amos Folarin, amos.folarin@kcl.ac.uk